About Community Specialty Pharmacy
Community Specialty Pharmacy was founded in 2010 by a team of dedicated professionals who set out to provide customer care at a level above and beyond anything the area had experienced before. With its compassionate and experienced staff, numerous certifications and accreditation, state-of-the-art technology and a warm and inviting facility, CSP has more than delivered on its initial promise. Since its inception, the pharmacy has become a focal point of neighborhood health care and a respected link in the chain of specialty medical needs for Tampa/St. Petersburg and beyond.
Community Specialty Pharmacy has carved a niche in the competitive independent pharmacy industry with its patient-driven approach.  Our pharmacists and technicians are not only highly trained and certified, they have decades of cumulative experience and a multitude of special certifications and accreditation.
Most importantly, we have a commitment to our community and each individual patient that truly sets us apart from the generic chain store.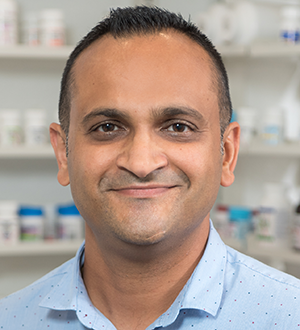 Nikul Panchal, RPh, BCNP
Licensed Pharmacist, PIC
Nikul Panchal, RPh, BCNP brings 20+ years of experience in leading teams in radio-pharmacy, community/retail, and specialty pharmacy operations. He's a successful Pharmacy Entrepreneur who creates competition with larger firms and chains by continuously gaining industry relevant accreditations and engaging in his community & with his patients in their care.
He's committed to completing large-scale projects with minimal resources. Nik has a proven record of being skilled in agile and thrives on negotiations, managing relationships, compliance, and strategic planning. His ultimate goal is to efficiently improve the quality of care of his patient by utilizing cutting-edge technology to streamline their healthcare.
Community Specialty Pharmacy
A single pharmacy that represents the best ideals in pharmaceutical care: a close and compassionate understanding of individual patient needs; prompt, accurate and courteous attention to patients.